SOMFY® AUTOMATION—WHAT'S NEW

TaHoma® Bridge and App
Control for up to 40 RTS channels per TaHoma from iOS and Android devices.

Join up to 10 TaHoma interfaces together (RTS only) for multi-zone control.

With the TaHoma app, you can remotely activate both Zigbee and RTS products.

Supports incremental control for tilt motors and lighting.

Supports ON/OFF commands for control of lighting or other devices powered via the Zigbee Smart Plug.

Compatible device systems: Amazon Alexa, IFTTT, Phillips Hue, and Google Assistant, Control4® Certified.

Integration with third-party systems over IP.

Use TaHoma Checklist to ensure performance as designed.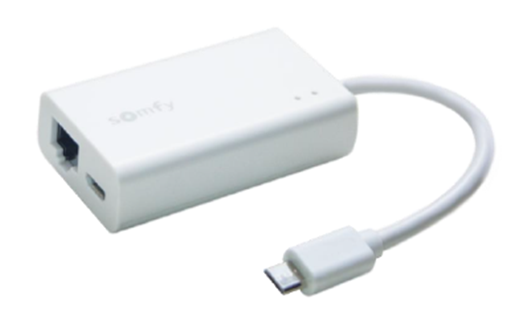 TaHoma Ethernet Adapter
Connect to the internet with a hardwired connection in cases where wireless network connections are not available.

Create a fast, stable direct wired connection to an internet network.