Automation — What's New
Canada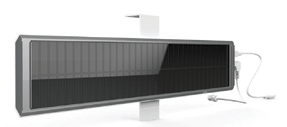 Smart Home Collection Solar Panel
Utilize sunlight to harvest power for SHC automated shades

One Solar Panel per shade or blind is needed

Easy to install and the low profile design is easy to conceal

5V Charger with renewable solar energy

Compatible with SHC Li-ion motors and SHC external battery pack

Not recommended on north facing windows

Micro USB charging cable, 59" long (included)

Dimensions: 18.7" L x 2" W x .30" D


NEW! SOMFY ZIBGEE
Zigbee is a worldwide "language" that's fully established in home automation and used with over 300 brands of switches, alarms, lamps, door locks, and many other options
% control allows shade to stop at any position

Bi-directional communication provides users with constant shade status and battery feedback

Mesh network allows AC motors and smart plugs to extend the range

Set & Go® Connect App makes programming for installers fast and easy

Covers a range of needs and sizes with power options like rechargeable battery and hardwired power

New Situo® 1 and 4 Zigbee remote controls available

Currently available with Roller Shades, Dual Shades, and Window Shadings
IMPORTANT: All installations must have at least one TaHoma Bridge and most applications will also need Zigbee Smart Plugs. It is not possible to control a Somfy Zigbee motor using a Somfy Zigbee remote without a TaHoma Bridge.



NEW! SOMFY CORD LIFT WireFree TL25 RTS
Available with Honeycomb and Cellular
Extra powerful, yet Designed for Silence

Features "dual-shaft" cord lift technology

Soft start & stop

Adjustable speeds

Available as 2-on-1 headrail

Power sources: Rechargeable Li-Ion Battery Pack, Single or Dual Reloadable Tube, Plug-in Transformer—power source must be selected when ordering RTS; priced separately

Works with all available Somfy remotes, wall switches and TaHoma Bridge

Not Zigbee compatible at this time

With this addition, Somfy is now offered in all key product categories!
Minimum Width: 18" NET
Maximum Width: 120"
Maximum Height: 108"

NOTE: Square foot restrictions vary by fabric. See Canada Honeycomb Shades and Latour Cellular Shades reference guides for details.

Several Somfy automation accessories are returning including:
Somfy Rechargeable Battery Pack, Reloadable Battery Wands, Sonesse® 28 WireFree™ RTS External Battery, WireFree™ Li-ion Solar Panel Kit, DC Power Supplies, and more!

Plus, hardwired shades will be available again with the Sonesse® 30 RTS 24v, Sonesse® 50 RTS and Sonesse® ULTRA 50 AC